Pennsylvania abortionist Kermit Gosnell killed multiple babies in cold blood but they were not the only the only victims - a mother by the name of
Karnamaya Mongar
also died tragically at his hands. This blood chilling case is only ONE of the resulting "Pro-Choice" evils that we are currently becoming aware of.
MEDIA BLACKOUT
This may be the first you are hearing of abortionist Kermit Gosnell. The fact is that there has been a media blackout of Gosnell's murder trial which has been underway since
March 18th, 2014.
Something this horrifying should be FRONT PAGE NEWS.
From Wiki:
"Kermit Barron Gosnell is an American doctor in Philadelphia who ran two multi-million dollar abortion practices. After a controversy nearly a year earlier, Gosnell was arrested in January 2011, charged with eight counts of murder: one patient who died under his care after a botched abortion, and seven infants born alive whose spinal cords Gosnell allegedly severed with scissors.[1] A grand jury recommended charges of murder against Gosnell and several of his employees.[2] CNN stated in March 2011 that prosecutors were considering seeking the death penalty.[3] The trial began on March 18, 2013.[4]"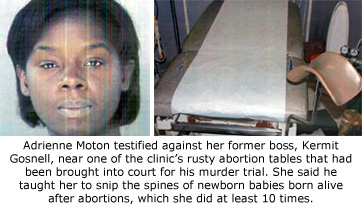 As seen at "Operation Rescue"
WARNING GRAPHIC IMAGE BELOW
"That's the way of the World."
TWITTER STORM
If you are on twitter, please take part in the twitter storm today - in attempt to bring this atrosity to the attention of the general public. Tragically main stream media have failed to report on Gosnell's heinous acts and ensuing murder trial. Please tweet using tag #Gosnell.
If you are as heartsick about this as I am - please share this information with others.
Please pray for the victims and as difficult as it is - please pray for the conversion and repentance of Kermit Gosnell. And pray without ceasing for an end to abortion and infanticide.
#Abortion #Gosnell #Catholic #ProLife #ProChoice #RightToLife